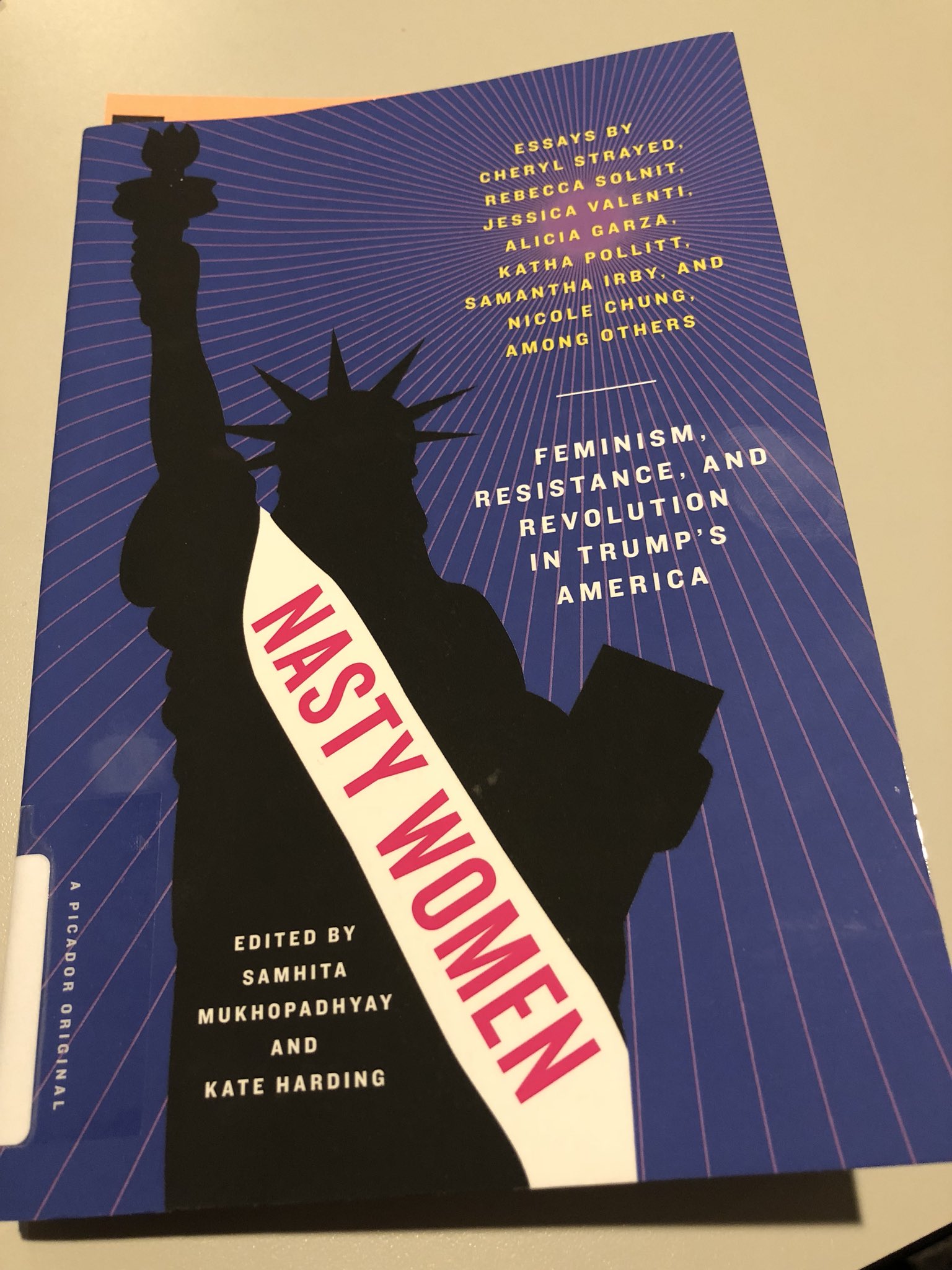 Has the political climate in the United States got you down? Wondering what you can do to help? Want to hear from diverse voices who are knowledgeable about the issues at hand and who are living alongside the rest of us, trying to make it one day at a time?
Read this book.
"Nasty Women: Feminism, Resistance, and Revolution in Trump's America," edited by Samhita Mukhopadhyay and Kate Harding, is a phenomenal read. I actually stumbled upon this book online a while back, and was excited for the chance to read it. My library didn't have a copy on order yet, so I did what all good readers who don't want to spend money at the bookstore do: I suggested it be added to the library's collection!
Sure enough, it was. After ordering it back in October, I was able to pick it up about a month later and be the first to read this library copy. I am so glad I read this book. It made me feel, well… better. Less hopeless. Stronger. More fierce. More ready than ever to not give up and not back down.
This book is not a book, per se. Rather, it is a collection of essays by a fantastic group of diverse voices, all dealing with the conditions of the United States under Trump. It discusses a wide range of topics, from identity politics to 'white feminism' to Native issues to transphobia to domestic violence and sexual assault to Islamophobia and so much more.
To give you a better sense of the essays in this book, I'll list the essays and their authors here:
It's a wide range of topics, but the book does a good job of covering a little bit of everything.
Reading it, I definitely wished some of the essays could have kept going; some of them could be books on their own, for sure. But altogether, this collection of essays is an extensive discussion on Trump's America and so many of the feminist issues we're being forced to deal with as a part of it (and of course, issues many have been dealing with for a lot longer.)
Give yourself the chance to read this book. Take your time with it. Maybe read one essay a day, or maybe one a week. It all depends on what you can handle. But read it. Maybe it'll open your eyes. Maybe it'll make you want to resist even harder. Maybe it'll make you feel, somehow, stronger. Maybe it'll make you feel more hopeful.
Read it.
And don't back down.